Artists are often asked who inspired them. The premise of this show is that Jay DeFeo was an artist who did that inspiring for many. DeFeo created a ripple effect and it flows through the work of about a dozen contemporary artists included in this show with DeFeo.
This is a bold statement by the curators. Jay DeFeo, born in 1929 and dead since 1989, is a name you might not know, even though her work was shown with Jasper Johns, Ellsworth Kelly, Robert Rauschenberg, Frank Stella and Louise Nevelson in Dorothy Miller's Sixteen Americans at MoMA in 1959. I try to think if I've ever seen a woman called a mentor, if I've ever heard 'she' was someone who inspired the artists in a major exhibition. Maybe legacy was mentioned in a Niki de Saint Phalle show I saw in France a few years ago, but generally it's men that are doing the mentoring and leaving the legacy – mostly because it had been only men who teach in the art schools.
Male and Female.
Jay DeFeo's work first came before my eyes not in an art history class while she was still alive, but only recently in the Denver Art Museum show called Women of Abstract Expressionism. Before seeing this show most of the women were unknown to me. I'd only seen the work of Mrs. Jackson Pollack (Lee Krasner) and Mrs. Robert Motherwell (Helen Frankenthaler). A third woman in the show curated and presented by Gwen Chanzit, was Mrs. DeKooning. Elaine was her name and I didn't know her work, but knew the surname because of her husband Willem. I had also seen the work of Joan Mitchell, but only a few years earlier.
I don't know if DeFeo was married to someone high up in the art world, or anything about her romantic history, but my first google search to find her most famous painting The Rose directed me to nude photos taken of her by a man for whom I was not searching and didn't know. The Rose was referenced in the current Aspen Art Museum show of DeFeo's work. Thank you Whitney Museum for this image.  I need it for educational purposes, to understand the rest of the work in the Aspen show.
DeFeo's name, which I knew thanks to Chanzit, lured me into Aspen from Difficult Campground just a few miles up the pass. Her massive materialistic paintings I'd seen in the Women show stayed in my memory.
The Inspiring Process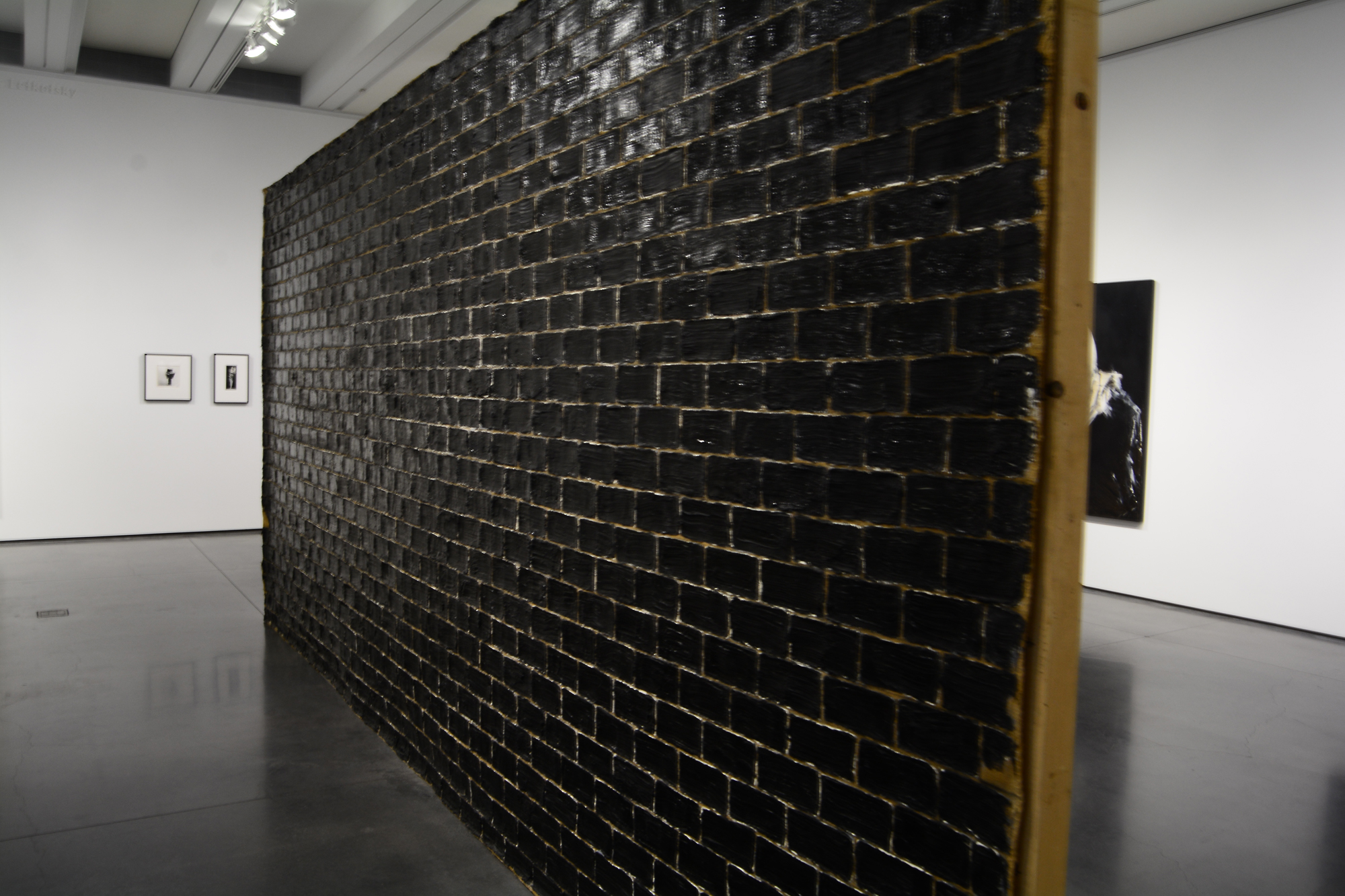 What this show does very well is explain the work practices of DeFeo, but it takes a little slow looking to figure out what's going on. First because the work is mostly black and white, and second because a giant wall that might be, but isn't a DeFeo painting, arrests you as you walk in the door.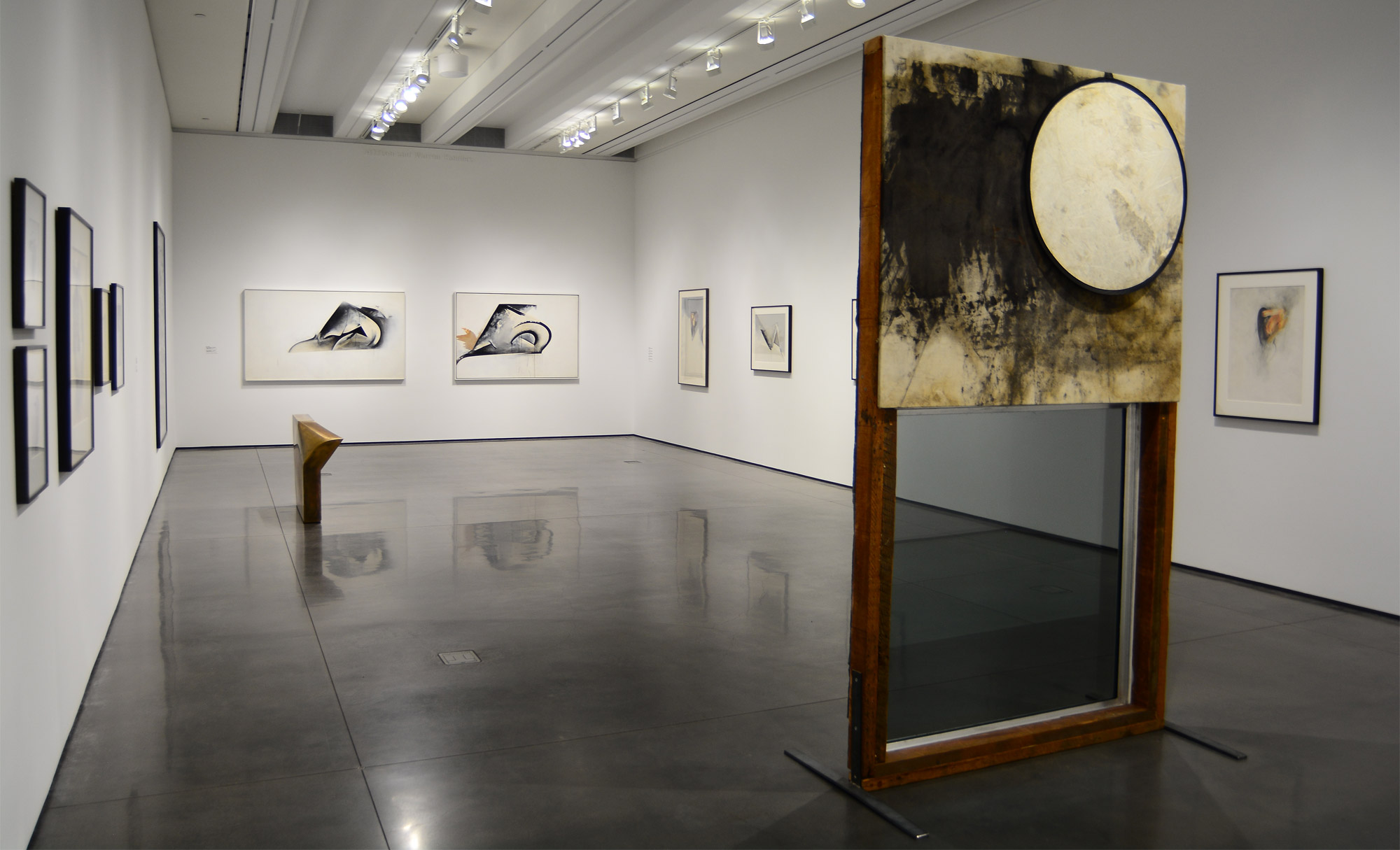 The second small room is a little easier to walk around with camping friends and see the individual works.  I don't mean this as a criticism of the exhibition, more a criticism of myself. You know how it is when you take a walk in the woods with chatting friends, the sun's behind a cloud and the forest is dark. You don't really notice what's interesting until the sun pops out and starts twinkling on some color. The rooftop of the Aspen Art Museum is like the scenic overlook part of the hike, giving you a great view of Aspen Mountain and, right now, a couple of cool, big Larry Bell glass sculptures.  Both the galleries above and below the DeFeo show are filled with brightly colored work and you can see a few of the second floor gallery work at the bottom of this post.
Black and white.
To get interested in DeFeo's work, I had to come back by myself, read the brochure, and give myself time to look.  Just inside the heavy glass doors of the gallery, the first intro to DeFeo's work is a collection of homages to other artists. The first pair, I assume are to an early surrealist, possibly Giorgio deChirico.  In the next two, she calls out Bernini in the title, and then R. Mutt in the next two.  Casts for R. Mutt are photos of temporary-looking sculpture that the curators are likely thinking are references to Marcel Duchamp who is credited with making Fountain, a urinal signed R. Mutt. Duchamp found objects, photographed them and called them Readymades and DeFeo's work here seems to be honoring the readymades, and ironically, celebrating a woman.
R. Mutt's Fountain was entered in a 1917 N.Y. independent artists show, rejected although the show was supposed to be open to anyone who paid the fee, photographed by Alfred Stieglitz, published in The Blind Man and elsewhere after Duchamp quit the artists' board because of it.  It has been attributed to Duchamp and called the greatest artwork of the 20th Century. Duchamp made and sold replicas of it in the 1960s.  But the real creator of Fountain was likely a woman, according to a letter Duchamp wrote to his sister.


DeFeo also gives homage by copying cave painters in the last two images on this wall.  One was drawn on tracing paper, maybe even traced somehow from a petroglyph, and then mounted on cardboard that already had drawn lines, marks and texture. I'm not going to show a photograph of this because it is much better imagined.  This layering of tracing paper marked with hints of cave painting icons and the visually undulating warm brown cardboard made physically real by DeFeo in 1951 is chronologically and aesthetically way ahead of photoShop. None of the artist mentees in this show are using this technique, but someone should.
The center piece in this wall I am showing.  The Seven Pillars of Wisdom #6 is a strong work in black and white and a strikingly feminine, waist-ed pillar.  Our photo drapes a nice garland of turquoise blue beads on the piece, but that is just a luxurious coincidence of the reflection of the gallery lights and the camera's sensor being exposed.
Color is minimal in her work, and every other work included in this exhibition. When DeFeo uses color, it models the shapes and brings them out of the flat tradition of Abstract Expressionism that was the emerging style when DeFeo was in art school. What feels new in her collages and paintings is the depth and the realness of the forms she models with the help of these hints of color. The forms feel imaginary and mind expanding in her paintings, but the origins of them become obvious when looking at the silver gelatin prints lined up right beside them in this show. She used the coincidences of the moment of photography, just like the turquoise lights.
---
Oh, Coffee Cup, where art thou?
The painting photographed with my 3×5-inch notebook is large, much larger than the image I attached to the right of it, which is one of DeFeo's silver gelatin prints. There are several photographs like this one that abstract a shape – in this case a  broken coffee cup handle and pointed out to me by the exhibition brochure.  The form is abstracted to namelessness by adding scraps of paper, and the shadows and blurs that happen in a photograph.  The variants of this Loop image – loop of the broken handle – is complex and very sculptural, and a very interesting series in this show.  With slow looking, and patience with the colorlessness of this show, we are rewarded to find this looping form over and over again.  The one on the middle of the south wall is followed by photographs, so while visiting the gallery you do get the same effect that I made by putting the painting and photo side-by-side. Scale is a crazy thing. I sympathize with DeFeo for wanting to make these forms big.  And, as the story or Bruce Connor's movie The White Rose goes, when DeFeo finished The Rose (above, thanks Whitney), it was too big to get out her studio door.
Next to the painting, Loop #1 (pictured with my notebook) is a painting called Cabbage Rose, followed by several photos of the leaf that was abstracted in the painting.
The beauty of these photos are natural. The beauty of the repetitive photographing of leaves is that each image suggests a different 3-D reality. Some look like a fanned collection of several leaves, but in the best exposed photo of the series it's just one large, full-circle leaf with crazy geometry and crinolinations.  This round leaf becomes the symmetrical and measured form that DeFeo paints in Cabbage Rose, and seeing The Rose, it looks like this leaf spawned that too.
Jay De Feo painting called Cabbage Rose
Connections, Legacy or Mentorship?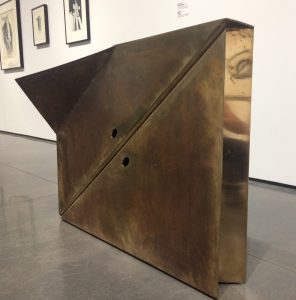 The assertive premise that this woman inspired subsequent artists is one I have not yet corroborated. The curators are from Le Consortium in Dijon, France and, in the past, they dedicated full shows to many of the artists that are included in this show, and may have exposed viewers to more works than those here in Aspen. The Jay DeFeo Foundation of Berkeley, CA, also collaborated with those curators and Aspen to produce this show, and gives additional insight. Including a great photo of DeFeo working on the Rose.
So let's go back to 1966, when The Rose was finished and shown in the Pasadena Museum of Art. In this year, Marcel Duchamp reveals his last work that no one knew existed Étant donnés, David Hockney is painting Peter getting out of a pool, and Yoko Ono shows the conceptual ceiling painting that made John Lennon climb a ladder and eventually met her.
This is the period when physical painting was dead. Andy Warhol was making goofy videos. Hockney persisted by making pretty pictures and he kept doing it. This strategy worked out alright for Hockney in the long run, but at the time many artists were heading in the direction of photo realism. Abstraction was passé. So DeFeo just keep painting, like Hockney. She painted The Rose for 8 years until the paint was so thick it was a sculpture.
You can go to Le Consortium's website to learn more about the artists they connect to DeFeo, because I want to suggest some others. John McEnroe comes to mind. He's a Denver artist whose paintings are just the paint. Honestly, they feel like he's lifted the acrylic, plastic paint off the canvas and carried it flopping like rubber to the wall. He also piles up paint like a squeeze out of a giant paint tube. You can see a red example of McEnroe's sculpture in Denver under the pedestrian bridge that connects LoDo to the Highlands.
You know the photograph of the paper and the coffee cup handle, and how DeFeo loved to paint it huge? Well, Daniel Libeskind did the same thing. He folded a piece of paper, photographed it, imagined it building size, and submitted it as his proposal for the new wing of the Denver Art Museum.
---
Aspen Art Museum Jun 29 -Dec 16
If we're going to look at people who took off on what DeFeo was doing with layering and use of real images to create imaginary ones, we could start to see this ripple effect everywhere.  On the second floor Cheryl Donegan's colorful work attacts the eye all by itself.  I don't need to talk about it.