Aspen Art Museum — JUNE 22, 2017 – NOVEMBER 26, 2017 — Walked into the gallery and then turned around to leave. On the way, I asked the gallery attendant when the show would open, and was told,
It is. This is the show.

I walked toward a pile of construction materials and the attendant closely followed and informed me not to touch anything. Piles of construction materials were everywhere dotting the gallery that's at least a couple of thousand square feet. My friend and I surveyed the space without moving, then she said to me, 'you have bright, white wedges under your eyes."
On the way into the Aspen Art Museum this brilliant June day, we'd been stopped by a guy handing out sun screen in little foil packets. 'Here, it's free' (like the Aspen Art Museum), he said, then, asked if we had time to learn something and he pulled us into his salon. We had just left the bar next door and some refreshment we'd taken after hours of hiking near the Maroon Belles. We were ahead of our husbands who were paying the bill. I only mention this because these factors made us easily lead, happy and not in a hurry. As we sat in his chairs, while he applied hand lotion, then face cream, we looked at each other and wondered how we got here. He chatted on about a treatment that was to be used every day and would take years off the age of our facial skin. Or would look like it, and of course you should still use the face products you already use, but this little addition would be the stroke of magic that set the whole Fountain of Youth into motion. Did we want to try one treatment, and then buy a years supply? We said yes to one free treatment, it was applied and we were not to take it off for 36 hours. What products do you use, and do you want this one — his call to action. We acted: said we didn't use any face creams and walked out and down the street to the museum.
About half hour later, standing in that gallery, my friend continued to advise me. "Let's go into the bathroom. You might feel ridiculous if you walk around the museum looking like a clown."
"It's not been 36 hours," I said as I thought about washing my face.
She said,"three to six. It was hard to understand his Spanish accent," she stared into the mirror then turned to me. "Is there a difference? I just had him do the one eye." I washed, and we stared at each others skin-below-the-eyes.

"I thought he was Russian."
"I don't think so," she said in meticulous English. And I was swayed in my opinion because her maternal language is Polish.
We decided there was no material difference to our skin from an hour ago. Less pink from the outdoors, if anything.
Back now, concentrating on the show, I had the feeling I'd heard of the artists Fischli/Weiss, I was remembering conceptual, humorous. And thought maybe this whole show was a joke. I'd already made a mistake and gotten sucked into the salon, and didn't nail the accent, which I'm usually really good at pinpointing.  I was having a hard time seeing anything beyond the ordinary, stacks of stuff that would be easy to see at any construction site. The objects were left as any good worker would leave them – nothing to trip over, nothing likely to spill. The placements felt like they were haphazard, but they weren't random. They were curated: neat, given space and visual interactions that a designer would notice in a room. Nothing was left where or near where the project was being done, and there was no coming back tomorrow to finish anything.
I went back to the attendant who had informed us that this wasn't an installation in progress but the finished work. "Why?" I asked.
She'd been asked this question by others before me. These are by the very famous artists … all made out of polyurethane and painted to look like real piles of construction material. "Don't touch," she said again, but lead us to a place where we could see paint applied to a work boot, or plaster or some substance that splashed on the boot. The interior, she pointed out, showed it was a solid cast painted realistically except that the artist had forgotten to represent the seam between sole and upper. (Aha, a little evidence left, perhaps, by mistake.)


Now, its obvious, she seemed to say, this is sculpture: made by artists and sitting in front of me in an art museum. But if these are not what they appear to be – construction materials – are the artists' tricking me again? Are they even suggesting this is art? Was Duchamp, really?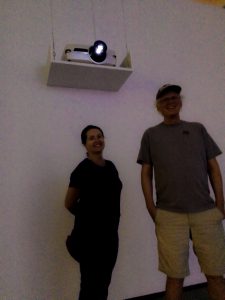 Onward, downward, to the lower level gallery we are shown a mesmerizing video of nature, up close. You can walk into it and be covered by it. And then, someone thinks they see the trick — the projector isn't real. It's a fake — a giant old thing from the pre-digital age, and it's hiding a small, modern projector that's actually showing the video. Or are we fooling ourselves.


Upstairs, in another very large gallery, is an array of snapshots – family vacations, casual images – lit from behind, horizontal at desk height, 18 feet long. Of course this is art — big, colorful, beautifully filling an art museum. I want to see my vacation photos like this. It's awesome, right? "I don't know," my companion said, "I didn't really look at what was in the photos."
Wade Guyton's work is scattered throughout the museum – giclés, digital appropriations – that I haven't taken the time to understand. My reaction may be the point (what deserves attention, what is boring only because we haven't taken the time to understand, what really is boring or useless)
.
Content. Yours, mine, famous people, dead people, only living memory of someone, faces, beauty, uniqueness, drama, magic, time on our hands, wrinkles on our face. What does it take?
……………….
Wade Guyton Peter Fischli David Weiss
Aspen Art Museum — Jun 22-Nov 26
This building-wide exhibition is a collaboration between Swiss artists Peter Fischli (b. 1952) and David Weiss (1946–2012), known during their thirty-three-year collaboration as Fischli and Weiss, and American artist Wade Guyton (b. 1972).