RiNo Denver - October 1-15, 2016
Sculpture and Drawings by Steuart Bremner
Bremner has been making sculpture for 40 years, often in metal (various metals) and sometimes carved wood – in addition to making conceptual and more ephemeral art. He avoid mixing materials in these tangible works in order to make the clearest image possible. In order to fine tune his concrete sculptures, he makes drawings. Early and undeveloped ideas fill sketchbooks drawn over these same decades. These are a source for sculpture as well as several series of more formal drawings (and sometimes paintings).
This pop-up show in the RiNo district is a collection of steel sculpture made in the recent decade in steel. The include works he calls "Drawing Illusions" which are 3-dimensional drawings of ordinary objects like clothespins, washers and string. Another series are Readymade Installations – these  are a play on Duchamp's 'Readymade' which were ordinary objects set in unusual contexts, and the contemporary sculptural form of installation, which is a collection of things. These are assembled so they could be an 'installaton' but they are of one material and so a whole.
Drawing Illusions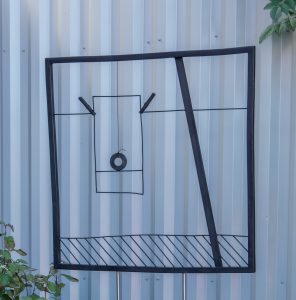 I can see the drawings
on a page in a book.
finger to the cut,
hands in opposition,
pull down the screen –
We're going to watch a filmstrip.
The exact stick
the distance between
in actual increments
is irrelevant to the eye's
task of placing each in order.
Help perspective; don't deceive me.
The black marks tell tales
of texture, solid materials
graphite, steel, flecks of ferrous oxide.
Light changes the color of the lines,
sticks there just to be lines,
washers for circles, string suspends.
Some simulate painted stroke,
others a freely drawn line,
others struggle with marching
in step down the page
purposely not as straight as they
left the mill.