March 15, 2015

to

July 5, 2015
As Sweet As It Gets
Painter Borremans
will develop like Simon Shama's

narrative of Rembrant –
having mastered old master painting
he's going to let politics creep in:
fish on the table – of the poor,
an ugly begermister.
What symbols, attitudes
juxtapositions will he use?
I don't know, but
somehow I bet the curator of
his show $5 that he'd attempt
to get more political –
although I'm not sure I spoke
clearly enough, was happy
from Happy Hour and travel.
I don't like making up political

or even narrative meaning to go
with paintings, even old ones.
Mona Lisa is an interesting face –
a combo of paints that has a physical
effect – we don't know if the
woman ever looked like that.
She might have had a wart on her eye.
His people are anonymous –
it is not about "McDonalds worker" –
but that people are pushed around,
made to wear stupid caps
or wooden suits.

The last large paintings done
in the air inside an old church –
open – drying – absorbing –
doesn't make religion seen.
Or sane.
Hemmed in.
What would they look like
if he painted in a town hall?
I wrote for a small town
newspaper for years –

covering ski resort towns –
A rich one that smelled of wasted money,
Another, a bedroom to the rich resort –
more for local workers –
the town hall was poorly designed
– a hallway really –
trying to be a greatroom,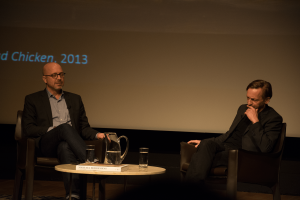 but just clumsy, trafficked.
And another town – a former train hub
– historically working class –
its so-called city hall refurbished
barracks – where they'd interred Japanese.
… if I could paint those feels …
If Borremans does it,

I'm going to claim the 5 bucks.