On a home tour
Rachofsky House gives Art Tourists a Peek
June 8, 2007
DALLAS – As if we were waiting for class and the professor had yet to arrive, we waiting in the shade outside. We'd all signed up for "New Acquisitions: The Rachofsky House," in the new sociology of art department.
Somehow we'd all found out about this place – designed by super-architect Richard Meier as a home for Dallas art collector Howard Rachofsky – a modern, one-bedroom house converted to an art museum open to the public at specific times situated on several acres off busy Preston Road in the residential center of the city.
Mr. Thomas Feulmer arrived and opened the gate and we spread out over the green grassy landscape in the June heat of Texas as if preparing for some hard thinking inside. Between the many artists, on the Friday afternoon tour, we identified an Anish Kapour, drain-like sculpture, a Jeff Koons – giant, magenta balloon sculpture, Marina Abromavic – Chair for a Spirit, Robert Irwin – lawn works, Kiki Smith (Tony Smith's daughter) … I feel a need to build my garden in my own backyard not as an asset for selling the house, but a place that pushes each little part to be as much as it can be.
We go into the clean, air conditioned kitchen (not refrigerated like most of interior Dallas), and Thomas carefully, quietly guides us to behave properly in someone's home and to be courteous to each other so we don't bump and damage the art. Obviously, this has happened before – you can see it in Thomas' face. We are asked to sign a release saying we will not make money off any pictures we take at the house (so please do not send money to me for the photos you see on this page) and are given a guide book with a photo, artist name, nationality, birth year and date of work. So Thomas doesn't tell us any of these details, and we are to guess what the materials are. On the wall, as we walk out of the kitchen to the entry hall gallery, I see the artist's name, Tim Gardner, on three small pieces that look like snapshots of college buddies and I say out loud – watercolors. That stopped a women on my heels, and she and I marveled at the skill of the painter. The works, I read in a passionate guidebook essay by the director of the collection, are about identity, life, humans and not art about art. Except these are about watercolor painting. Otherwise, they would be photographs.
The gallery contains the front door (a Donald Judd-style, hinged monolith), the corner spiral stairway, opening to kitchen, airy off centered stairway (worth looking at) and opening to the dining room that can be closed off with an ascending glass wall – that Thomas is ascending at this moment cautioning everyone to look out – mechanics in motion. The curator from the guidebook admits that the new works shown here have not be filtered except that they are works created this decade. They illustrate what the Rachofskys collect "out of pure, untethered fascination" in the heat of the times, not with "strategic thought."
And so they demonstrate how you can buy and show a giant blue man or a beige shroud (with body) in your living room, black paintings in the bedroom, conceptual sculpture in the bathroom. Now living with kids, the Rachofskys don't live at this house, but down the street. When they are dead, the house will belong to the Dallas Art Museum.
In the bedroom, I start a conversation with a group of architects who love Meier's work and point out details like the exterior tiles – 3 x 3 foot, white powder-coated aluminum – absolutely flat.
My companion plans on making a slide show of the house for friends who like modern architecture, and takes pictures of paintings lingering in rooms hoping to avoid people in the pictures.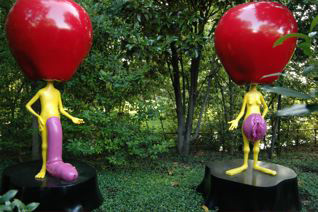 He starts up a chat with the architects who say they don't like Daniel Liebeskin, who did the Denver Art Museum, because he's just a dramatist, not a creator of spaces, unlike the Japanese Tadio Ando who created the luxurious Fort Worth Modern. Ando was a finalist for the Denver museum, I said. On the way back to the normal world (which in Dallas is filled with cars) we revisit the sculptures, one a self portrait in bronze by Alighiero Boetti, that heats up, pours water over its head, and heats to dry … and two red and purple figures of Adam and Eve hidden in the trees (large genitalia.) There are just some things you can only do at a private house.
An Art Tourist travels to see art. Notes from the road end up here, and are jaded by living in the contemporary world, making a living and an American education.